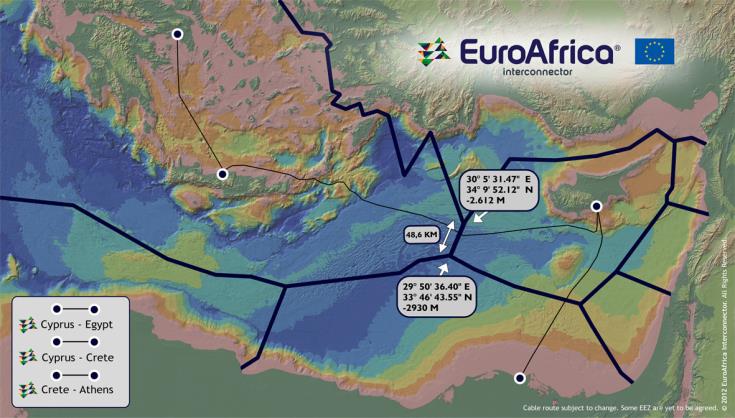 Cyprus moves closer to electricity interconnections with neighboring countries
[ad_1]
Cyprus is getting closer to its goal of ending energy isolation, with significant developments regarding electricity interconnections with its neighboring countries.
According to sources from the Cypriot News Agency (CNA), developments regarding the electricity interconnector of Egypt, Cyprus and Greece (Interconnector EuroAfrica) and Israel, Cyprus and Greece (Interconnector EuroAsia ) are progressing rapidly.
As sources told CNA, the Minister of Energy, Trade and Industry Natasa Pilides awaits the response of his Egyptian counterpart, the Egyptian Minister of Electricity and Renewable Energy, Mohamed Saker El Markabi, to his invitation to visit Cyprus from 8 to 14 October to sign the interconnection agreement between Cyprus and the 'Egypt.
At the same time, a tripartite meeting at the level of Heads of State and Government between Cyprus, Greece and Egypt is planned in Greece, where a relevant tripartite memorandum concerning the electricity interconnection of Egypt, Cyprus and Greece with a cable with a total length of 1396 km should be signed.
Regarding the EuroAsia Interconnector, which concerns the electricity interconnection of Israel, Cyprus and Greece (via Crete), with a high voltage direct current (HVDC) offshore cable with a total length of 1,208 km and with a capacity of 2,000 MW, the European Commission announced on September 7 a call for tenders that will allow companies to obtain financing from the Mechanism for Interconnection in Europe (CEF).
Following this development, the project executor, EuroAsia Interconnector Ltd, may request and receive a portion of the amount required for the construction costs of the project. According to the same sources, the funding request will, at this stage, concern the part of the project which links Cyprus to Crete. The total amount of funding can be up to 50 percent of the total cost.
In the meantime, according to other sources, the Minister of Transport has given the executing agency final approval and authorization for the laying of the cable, with the start date of the project being January 2022.
At the end of July 2021, the Council of the European Union approved a grant of 100 million euros for the EuroAsia interconnection as part of the Recovery and Resilience Plan (RES), to lift the energy isolation of Cyprus, last EU not interconnected. Member State and help develop a sustainable and green economy.
[ad_2]