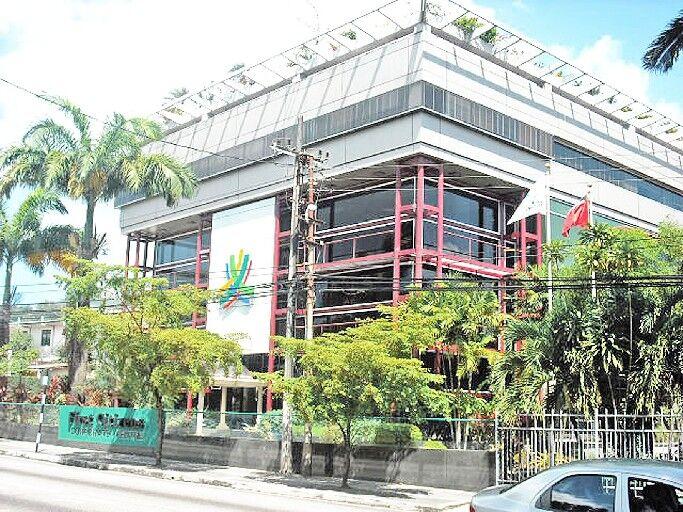 FCB lends $ 25 million to parent company Barita | Local company
MAJORITY A public financial institution, First Citizens Bank Ltd (FCB) is one of three financial institutions listed as having made long-term loans to Cornerstone Financial Holdings Ltd, according to the investment holding company's draft financial statement Jamaican for the year ended. September 30, 2020.
The draft document states that FCB has made a long-term loan of US $ 25 million ($ 170 million) to Cornerstone Financial, which is the majority shareholder and parent company of Barita Investments Ltd.
Cornerstone Financial also indicated in its financial statements for its fiscal year ended September 30, 2020, that JMMB Bank (Jamaica) Ltd and Jamaica National Bank Ltd have provided loans to it of US $ 5.6 million and US $ 4.2 million. US, respectively.
Cornerstone Financial also received US $ 47.7 million from corporate bondholders between October 1, 2019 and September 30, 2020. In total, Cornerstone Financial received US $ 81 million in long-term loans for the period. .
Cornerstone Financial owns approximately 75 percent of Barita Investments. Cornerstone's 2019 audited financial statements show that the company held assets of US $ 414.8 million for the year ended September 30, 2019. Ninety-six percent of Cornerstone's assets at the end of September 2019 , some US $ 399.7 million, were shares of Barita Investments. Cornerstone's investment in Barita Investment stood at $ 496.9 million on Friday.
On Friday afternoon, the Sunday Express emailed a list of nine questions to FCB chairman Anthony Isidore Smart, the bank's CEO Karen Darbasie and its general secretary Lindi Ballah-Tull. Yesterday morning, Smart confirmed having received the questions but had no further comment.
The questions were:
1) When was the $ 25 million loan disbursed?
2) Why FCB Loaned Cornerstone $ 25 Million
3) The loan is described as long term. What is the term of the loan?
4) What is the interest rate on the loan?
5) Is the loan amortizable or lump sum?
6) What is the value of the collateral required by FCB for the US $ 25 million loan?
7) Is the loan secured or unsecured?
8) If guaranteed, what percentage of the collateral is held in Barita Investment shares?
9) How would you rate the relationship with Barita Investment Ltd now, given the revelation last Sunday of the partnership to provide services for the cross-listing of Massy shares and now the loan.
Develop the relationship
Last year, publicly traded FCB developed a relationship with private group Cornerstone Financial Holdings when it made two investments in Barita Investments Ltd, the brokerage firm listed on the Jamaica Stock Exchange.
FCB's 100% subsidiary, First Citizens Investment Services, made an initial investment in Barita Investments in September 2020 during the additional public offering (APO) of shares of the Jamaican company.
FCIS acquired 54,280,154 shares of the APO from Barita Investments, once paying $ 52 per share, for a total consideration of approximately $ 2.82 billion formerly (US $ 19.5 million).
This initial investment gave FCIS a 5.0% stake in the Jamaican company, making it the second-largest investor in Barita, after Cornerstone Financial Holdings, which then held around 74%.
Following its initial investment in Barita in September 2020, FCIS acquired a second block of 12 million Barita shares, bringing its stake to 66,280,154 shares, or 6.1% of the Jamaican company.
FCIS acquired the second block of Barita shares on December 4, 2020, at a price of J $ 90 per share for total consideration of approximately J $ 1.08 billion ($ 7.2 million).
It is estimated that FCIS paid a total of $ 26.7 million for the 6.1 percent stake in Barita. The participation of the FCIS was estimated at 40 million US dollars on Friday.
Speaking to shareholders at the bank's virtual annual meeting on June 30, 2021, FCB CEO Karen Darbasie said the bank had "actually recorded a very good gain" on its investments in Barita Investment Ltd, a publicly traded Jamaican financial services company.
"We continue to look for more investments, but they (Barita) are investments that have been made in the ordinary course of business to capitalize on the potential for earnings and / or returns so that we can continue to generate the positive growth. of our profits for all of our shareholders, "Darbasie said at the company's virtual annual meeting.
And then last week the Sunday Express reported that Massy Holdings chairman Gervase Warner confirmed that the group's board of directors had chosen a joint bid from FCIS and Barita to advise Massy on his cross-listing on the JSE in January.
"We conducted a rigorous and objective assessment process, inviting advisors from both markets, and this partnership was selected," said Warner. He said Massy had sent out invitations to all the "appropriate actors" in Jamaica and to T&T. A total of 13 companies were invited to tender.
Massy received six expressions of interest, which he narrowed down to a shortlist of three people required to submit full proposals. The Massy Board of Directors selected FCIS / Barita Investments at their August 8 meeting.
Barita Finance
independent
Cornerstone Financial broke its silence on issues raised by Trinidad Express newspapers since late April on Friday by sending written responses to questions to the two Jamaican newspapers.
The Express reported that companies called Barita Finance and 294 Inc, which are linked to Cornerstone founder Paul Simpson, were both incorporated as offshore companies in Saint Lucia on November 28, 2018.
Responding specifically to the link between Barita Finance and the Cornerstone entities, its chief investment officer Jason Chambers wrote: none of its directors.
"Barita Investments Ltd is the investment manager of Barita Finance Ltd and acts as fiscal agent with respect to debt issues by Barita Finance. This represents the close and unique nature of the relationship between Barita Finance, Barita Investments, the Cornerstone Group and any of its officers, shareholders, directors and their related parties, including the companies they own.
"Functionally, Barita Finance is a vehicle used to provide investors in Barita Investments with exposure to various transferable securities that are part of the range of structured off-book investment products offered in the market. "
Cornerstone migrated from Saint Lucia to Barbados under a Certificate of Continuance under Section 356.2 (1) of the Barbados Companies Act and its name was changed to Cornerstone Financial Holdings Ltd on the 26th February 2020. The company was previously Cornerstone Investments Holdings Ltd.