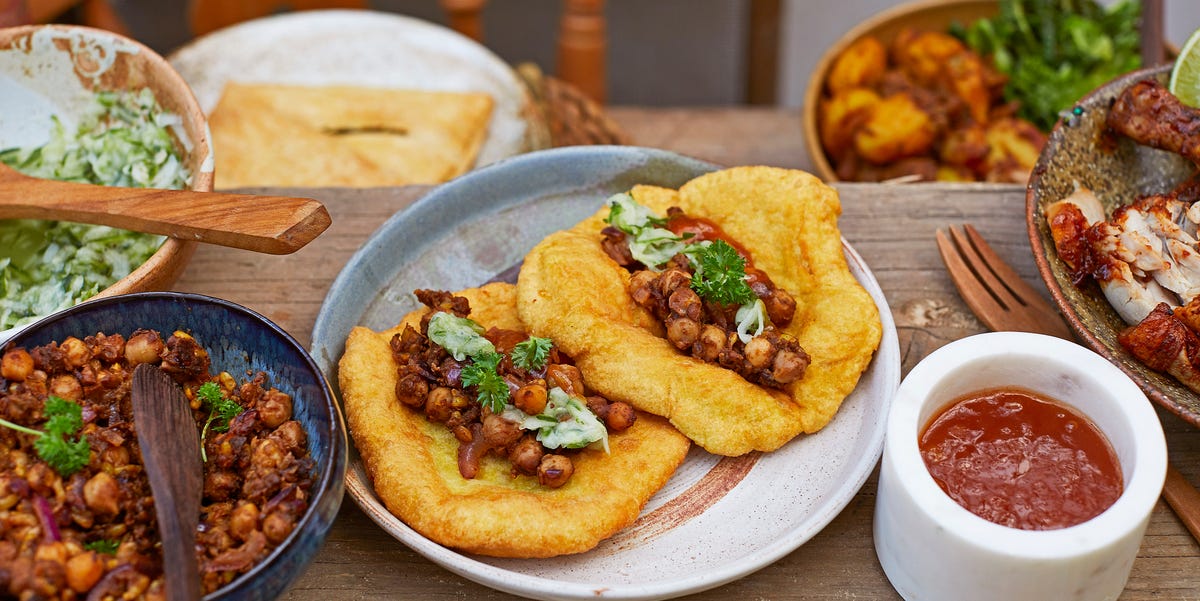 Street food is the heartbeat of carnival
The Notting Hill Carnival has been held in the UK for decades, with the first taking place in 1959 at St Pancras Town Hall. It is now a full cultural event taking place every year in London, with many other breakout festivals taking place across the country. After a two-year hiatus due to the pandemic, Notting Hill Carnival returns to the streets of London this August bank holiday (Saturday 27e to monday 29e) spanning Westbourne Grove, Westbourne Park, Kensal Road and Ladbroke Grove.
Although Carnival is hosted in London, the event isn't just for Londoners; the weekend draws attendees from across the UK to enjoy one of the country's signature traditions. Crowds come out in the thousands, and for good reason; weekend festivities include a parade of floats sponsored by global and local companies, Mas groups and extravagant costumes with colorful feathers, beads and gems. The sounds of soca, calypso and heavy bass PA systems can be heard throughout the weekend throughout the area, while the smell of jerk pits perfumes the air and rumbles stomachs.
The end of World War II saw thousands of Caribbeans migrate from the islands to the UK to help rebuild the country's workforce and economy, with many settling in the north and south west from London. Sadly, many were subject to racial harassment, culminating in the Notting Hill race riots of 1958.
Trinidadian and political activist Claudia Jones played a key role in creating the Notting Hill Carnival as an event to celebrate Caribbean culture and contributions to the UK and encourage unity in an area of ​​London heavily affected by racism. Since then, the Notting Hill Carnival has become an annual event. Carnival culture has even spread beyond London to other cities in the UK; St Paul's Carnival in Bristol has been going on since 1968 and Manchester Carnival began in 1970, both launched after similar stories of racial tension.
Despite the dark history behind the origins of Carnival, the events are known to be shows of joy, celebration and positive energy. After the past two years of global uncertainty due to COVID and Black Lives Matter protests over the summer of 2020, the return of Notting Hill Carnival and Carnival events nationwide will no doubt provide attendees much needed catharsis and will be uplifting for Afro-Caribbean communities across the UK.
And an integral part of carnival culture, whether in Notting Hill or St Paul's, is the range of Caribbean food available. Street vendor stalls will line the roads for miles, from restaurants to catering businesses, serving food and drink throughout the weekend. You'll usually find plenty of jerk chicken in wraps or boxes alongside rice and peas, plantain, and coleslaw. Or, goat or chicken curry with roti, plus fresh coconut and cane sugar.
Notting Hill Carnival's street food culture has become as popular as the music and entertainment, with some stall owners becoming staple vendors each year. One of them is Levi Roots, a musician and culinary entrepreneur, who spent his early years immersed in carnival culture, helping his aunt prepare chicken and fish for the food stand she ran. He cites the Notting Hill Carnival as strongly influencing who he is as a person today. This year Levi will be nationwide chairman of Bristol's St Paul's Carnival where, long before The dragon's lairhe sold his famous Reggae Reggae Sauce to the participants.
"The spirit of carnival is about food and cooking," he said. Delight, referring to the many different cuisines currently on offer, from Latin America to East Asia and beyond. However, it was Caribbean favorites that built the mould, according to Levi: "your spicy jerk chicken with rice and peas, classic curried goat and roti – they are the heart of Carnival."
Jerk Chicken in particular is a key part of the weekend, Levi tells us. "You just grab it and eat it…that's what people wanted; to have food they could eat on the go. Jerk chicken is classic for that. The vision of the jerk pan, of the barbecue, so Caribbean… natural cooking with smoke must be part of it.
What makes Caribbean street food so special at Carnival is the love behind it. Many stalls are family-run, Levi tells us, and so "you feel like you still have it in someone's house or someone is cooking it for you…they cook it at home. And I think that's the beauty of it.
So if you're heading to carnival this year, whether in Notting Hill or St Paul's – which Levi says will be 'back in a garden and more about the people of St Paul' this year, be sure to check it out. go there on an empty stomach.
In the meantime, we've shared some of our favorite Caribbean recipes to help you recreate the flavors of Carnival, at home, thanks to the guys behind original flavor, Shaun and Craig McAnuff: